This week I assisted to the Google DevFest 2011 Barcelona. This year it was celebrated on a great "garage" located on an industrial area of Barcelona. I will tell the more interesting things that I found on the different sessions: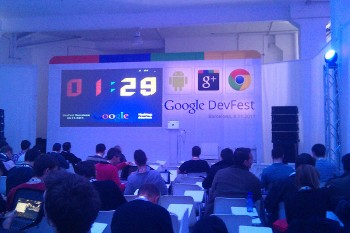 NEW IN HTML
As usual, this session presented by Paul Kinlan showed us the future of HTML5. I love the x-webkit-speech Chrome feature to make voice inputs that we already could see on the Madrid DevFest 2010. Paul made also some demos of WebIntents  a great idea to make something similar to Android intents on the web. Finally we could see that HTML5 is advancing very fast trying to implement many APIS that will make Flash obsolete, like window.navigator.getUserMedia() ot the Web Audio API.
GLSL
This session was presented by Mr. doob aka. Ricardo Cabello, a guy from the demoscene. He made a introduction of how 3D works in the browser and showed us how to use the GLSL language to make great effects on web pages. He has those GLSL demos on his blog.
GOOGLE+ SESSIONS
There were two Google+ sessions driven by Ade Oshineye, one presenting the new social network (also announcing the Google+ Pages) and other with more technical details for developers. One thing that you can do easily is adding the +1 button to your site. Other very interesting tools that we could see were the Google APIs Console and the Google APIs Explorer.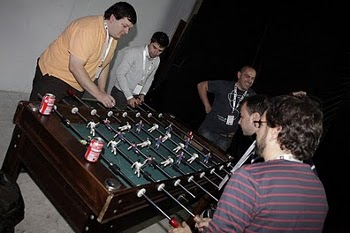 ANDROID SESSIONS
Bruno Oliveira is replacing Reto Meier as our "Android Developer Relations".  On the first session he made a great review of the Android platform evolution since 2.1 to 4.0. On the second session he gave us great tips to improve UX experience on Android. This guy is a showman!
MAKING A BUSSINESS OUT OF APPS
This session was presented by Paul Kinlan and Bruno Oliveira, showing us that monetization tips are valid for both web and Android apps: Lazy registration, try before you buy, easy payment, in-app payments… Bruno also presented the new multilingual "Guide to the App Galaxy" http://www.guidetotheappgalaxy.com/.
GOOGLE SHOPPING API
Daniel Hermes showed us the Google Shopping API and many integration samples.
CHROME DEV TOOLS
Finally Sam Dutton made a review of the Google Chrome development tools. This tools replaced my FireBug many years ago! He also made his slides available.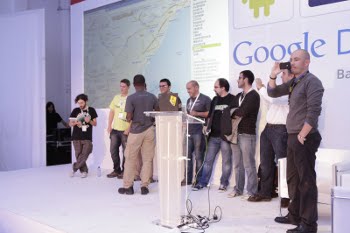 APP COMPETITION
This year Google also organized and Appcircus-style app competition. Those were the apps and sites presented:
I won the app competition, but all were great apps. Our presentation and some photos of the app competition are available at our Mobialia Blog.