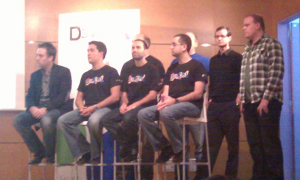 As many of you know, this year I'm involved on Android with my project Mobialia. On February I was on the Android Developer Lab at Madrid and today I returned for the Google DevFest.
The event started with Dave Burke presenting Google Technologies in general. Many jokes about the iPhone (to show the Chrome2Phone extension he send a page about iPhone unlocking from Chrome to a Nexus One). He made the typical Sunspider Javascript Test comparation between a Nexus One with Froyo and an iPad. It also was quite impressive so see GWT Quake2 Port running on Chrome at 50 FPS and the new voice/camera input fields on HTML5.
Then the sessions where split on two lines, I assisted to the Android, Chrome&HTML5 and Maps related.
Our beloved Reto Meier was speaking at the Android Sessions, much more technical than on February's Android Developer Lab (good!). On his first session he made a great presentation about good and bad practices developing Android Apps (I suggest every android developer to see it!), on the second he speaked in detail about Cloud to Device Messaging and vice-versa. He gave me lots of app ideas using this feature. Finally he swowed us proudly his new Samsung Galaxy Tab and encouraged us to adapt our applications to the new tablet devices. I even had to buy myself one after hearing how amazing it was. Luckily, I was able to find some pretty good deals online (more right here).
There were also very short presentations of spanish app developers (eAdventure, LibreGeoSocial, Inmobilia, Sicad and great the one of AnderWeb!).
Next, Paul Kinlan speaked about Chrome Apps and Extensions, the App Store and HTML5 on detail. I'm also very happy to see the progression of HTML5 and how Chrome is leaveraging the innovation towards a better web. Quite funny to see a modified Pacman Doodle controlled with the acceleromers of the iBook. There was also a presentation of Fiabee showing their HTML5 app and Chrome extension.
On the last sessions with Josh Livni talking about maps and presenting the Google Maps API v3, I was very impressed with maps customization, Fusion Tables and the new Google Street view API possibiliting the creation of 360º photos and adding them on specific locations (as inside a bar!).
All the sessions where recorded on video and will be avaiable at the Google DevFest Madrid web site.